No outing in June due to maintenance. See you in July!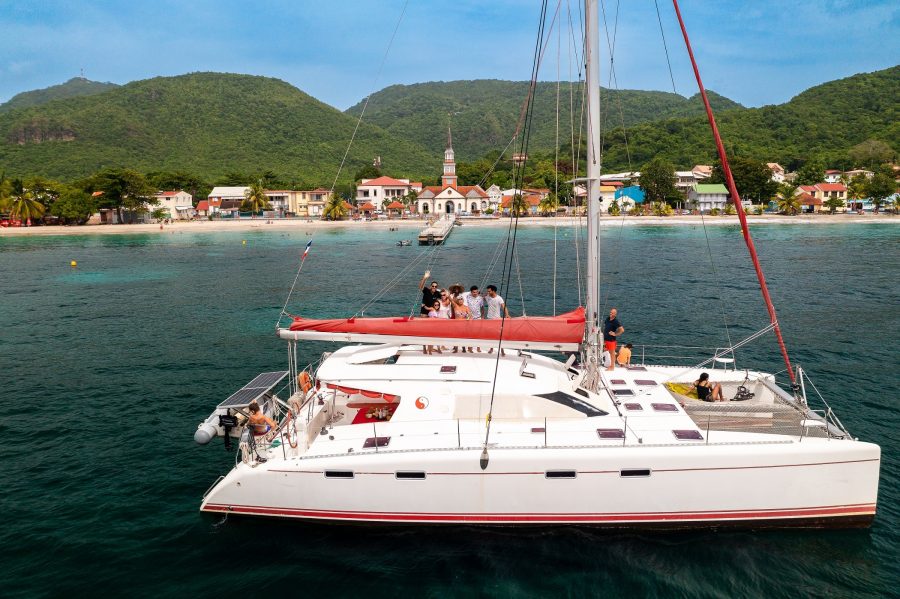 Privatization
Kokoumdo offers you the possibility of privatizing our catamaran for all your private or professional events. Contact us for more information
Anniversaries • Engagements • Weekends • Cruises • Seminars
"*" indicates required fields
Meal
The meal choices are creole-style roasted chicken (it's chicken on a sauce with local spices, a bit spicy) and fish cooked on coconut milk (sea bream or marlin)
Menu  :
in the morning breakfast buttered baguette and jam
midday

starter: assorted local vegetables
main: chicken or fish with péyi vegetables and rice,
desert: coconut blancmange and its chocolate fondant squares

the meal for the afternoon is a selection of fresh fruit.
Payment
The payment can be made by card, cheque, cash, or holiday cheque for a total of 50% of the total amount.
A deposit of 20% will be requested when booking.(by bank transfer or on site in cash or credit card)
Customer reviews

Journée de rêve Journée de rêve Superbe catamaran, nous étions 17 , nous avons vu les dauphins après environ 1h de navigation, une chance, ils étaient très nombreux et sont venu près du bateau. Ensuite snorkeling dans un endroit paradisiaque (un aquarium) c'était magique, par après nous avons vu une bonne dizaine de tortue que nous avons pu observer longuement... une très belle journée avec en prime Mike et Elisabeth qui sont vraiment très agréable et acceuillant ...vivement que l'on y retourne, Merci pour tout

Journée géniale Super journée, nous n'avons pas vu le temps passé. Équipage accueillant et bienveillant, ambiance au top et paysages superbes. Foncez sans hésiter !

Une superbe expérience Une journée incroyable accompagnée d'un équipage très sympathique et serviable ! Je recommande sans aucune hésitation. Nous avons eu la chance de voir des dauphins de plusieurs espèces différentes très rares ainsi que des tortues marines dans une paysage idyllique !
Excellente journée ! Sympathique journée passée hier sur le catamaran avec ma fille. Nous avons vu les dauphins du côté de Bellefontaine. Puis un arrêt de deux heures pour le déjeuner (non fournis) avec possibilité de Snorkeling Anse d arlet. Ensuite direction anse noire où nous avons furtivement vu des tortues, Elles n'étaient pas vraiment au rendez-vous ! Idem pour les chauves souris, on ne les vois pas car nous sommes en pleine journée mais par contre on peut les entendre ! Mike s approche tres près de l'entree de la grotte. Il y avait beaucoup d'ambiance et de musique sur le catamaran ce qui nous a permis de passer une excellente journée malgré tout. Nous recommandons vivement !

Journée magique Une journée magique, sublime. Tout était parfait. Captain Mike et Elisabeth sont aux petits soins pour tous les passagers et vous mettent tout de suite à l'aise. Allez y les yeux fermés, nous recommandons fortement.

À vous le Kokoumdo Le voilier est génial, l'équipe est top un accueil digne de ce nom, une ambiance magique, la rencontre avec les dauphins un pur délice pour les yeux, les tortues c'était magique et les sites incroyables. Merci au capitaine Mike et son hôtesse Elisabeth. Je recommande sans hésiter. Une excursion à faire absolument.

Une magnifique journée Satisfait de cette journée avec ma famille, au delà de nos attentes: rencontre avec les dauphins, plaisir de la navigation en catamaran d un point à un autre et découverte de l ile vue de la mer, pause et baignade à l anse dufour (baignade avec une tortue géante) et anse noire... Encadré par une équipage sympathique et attentive + boissons locales offertes . Je pense que le plaisir de cette journée est due aussi au nombre de passagers 15, pas d encombrement , pas de difficulté pour trouver une place sans promiscuité. Famille PINHEIRO le 24/10/20

Une journée fantastique Une magifique journée avec un équipage au top. Dauohins tortues que du bonheur merci à Claide Céline et Mike

paradis Excursion magnifique, entre les différentes plages, les dauphins, les tortues, les poissons. L'accueil de Céline et de son capitaine etait jovial et chaleureux. Je recommande à 1000%

Souvenir inoubliable et ambiance parfaite Au top!!! Dauphin #tortue #chauve-souris #rocher du diamant #plongée dans des spots magnifiques #prestation sur l'histoire de la Martinique et les prestations en plus sur participation de la conduite du bateau et les collations. Génial rien a dire. Je suis content de mon choix parmi temps d'autres, le bateau est fait pour les handicapés et en plus des marches pour remonter facilement du bateau après la plongée. De plus le bateau a un coin pour bien bronzer et pour regarder les dauphins et un autre qui est convivial pour une famille👍🏾👍🏾👍🏾👌🏾🐬🐢😁
The catamaran is a type of boat with two hulls that was designed to navigate the sea. It is particularly adapted to coastal regions and can be used in calm waters as well as in turbulent areas. The catamaran is also stable, which makes it ideal for nautical activities such as free diving or for a sea excursion. Moreover, this type of vessel offers a lot of space on board, which makes it perfect for groups.
Why choose to hire a private catamaran in Martinique?
Catamarans can be rented in many regions around the world, but Martinique is one of the most popular places where they can be hired privately. Somehow, we can say it's because Martinique is a magnificent island, with many beautiful beaches and crystal clear waters. Also, Martinique es not very populated, which means there are fewer vessels and jet skis on the beaches, which makes it a pleasant experience.
What are the advantages of hiring a private catamaran?
The advantages of hiring a private catamaran are many- Firstly, it will allow you to personalize your experience according to your taste and preferences. You can choose what type of vessel you wish to hire, as well as the size and interior layout. Additionally, you can decide what you want to do during your stay on board. You can choose to spend time swimming, diving, practicing wakeboarding, or simply admiring the magnificent landscapes of Martinique from the deck.
For which events is it best to hire a private catamaran?
There are many events that make hiring a private catamaran ideal. Anniversaries, weddings, and parties are perfect for it, allowing you to have guests and enjoy a uniquely memorable experience. Moreover, hiring private catamaran es equally ideal for groups that wish to spend time together in a magnificent, and relaxing way, and choose at the same time a personalized sea trip that could be agreed upon with the captain of the vessel. Whether you want to celebrate a special occasion or simply enjoy a moment of relaxation at the sea, hiring a private catamaran is an excellent option.
Kokoumdo
Kokoumdo
Kokoumdo